Last summer, the famous HIMKOK bar in Oslo launched a NFT* cocktail menu, in order to raise money for the bar industry, hit badly by the health crisis. Thea was the lucky winner of a contest allowing to win one of the NFT designed by the artist Esra Røise. Interview.  


Tell us a bit about yourself.
I am a 32-year-old media advisor living in the central part of Oslo. I would say I'm a typical Oslo-girl, I grew up here and really love the city. On my spare time I love going out for dinners and drinks or going to the movies or concerts. I love checking out new bars and having new food experiences.
How did you learn about the HIMKOK NFT initiative?
I learned about it from Paul at Himkok, as I am a frequent visitor. It's probably my favorite bar in Oslo. I thought the HIMKOK NFT initiative sounded super interesting and love that there is an experience and an NFT connected to each drink.
As a Norwegian, did you know ESRA ROISE before?
Yes, Esra Røise is very famous in Norway and I have followed her on social media for quite some time. I think it was a great idea to have her illustrate the menu. I really love her work.
Before this initiative, did you know what was a NFT?
I think I heard about it briefly, but I hadn't considered investing in it. However this was such a cool idea, and as a digital media advisor I have actually pitched similar ideas to some of my clients after buying it. I also think that, what's great about the Sage NFT, is that you get a physical work of art as well as a digital.
Why did you choose this specific piece: "Sage"?
First I would say that I really like the cocktail and the NFT and the physical piece that Esra Røise has created. Secondly I thought the experience with PARAGON looks really cool. Basically I liked everything about it.
Did this experience entice you to bring more NFT to your collection?
Yes definitely! I think people who are investing in NFTs now are ahead of a wave that's coming. I believe we are on to something that is about to get very popular and big.
Have you tried a PARAGON based cocktail before?
The Sage cocktail was my first cocktail with PARAGON. I was really amazed because I normally don't like G&Ts very much, but this twist on a G&T was super nice. And I think the flavor of PARAGON really lifts the cocktail to the next level.
In addition to the NFT, you also won a cocktail tour in London. Was it your first time there?
No, I have been to London a few times before as I have friends living there.
What is your best memory about this trip?
I really enjoyed going to the MONIN Studio, getting the full history behind the brand, making our own coasters and cocktails with PARAGON. I use the coasters every day!
I also thought the bar-to-bar trip was amazing, we visited so many cool places and had some incredible cocktails. There was such a great variety in the different places we went to. I felt like I experienced London in a whole new way, even though I have been there several times before.
What was the most surprising things you learned about PARAGON?
I think how much time was invested researching and travelling to find the right ingredients and developing the right flavors. I also thought it was very interesting to taste them without being mixed into a cocktail and then mixed with tonic. There were a lot of interesting flavor experiences by mixing it with different things.  
SAGE COCKTAIL RECIPE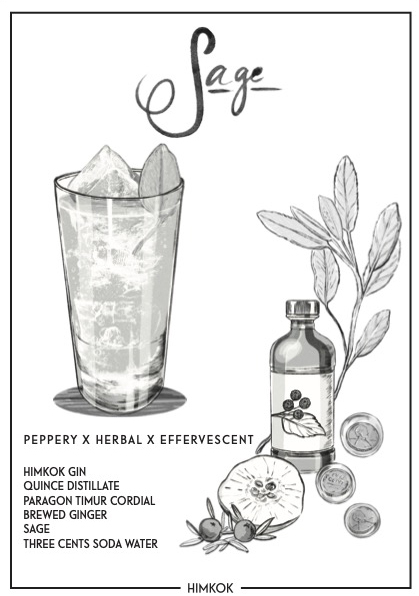 "Monks from the grimsøy monastery introduced sage to the locals in the 1100´s, the plant has been synonymous with health ever since. Sage has not only been embraced for its medical purposes, but is also loved for its intense flavor and smell which we want to showcase in this herbaceous highball."

Paul Aguilar, Drink/Flavour R&D – Preparation Manager, Himkok Håndverks Destilleri
*NFT: Non Fungible Token